Itai Haviv is an Israeli geologist and environmentalist with extensive desert guiding experience in Sinai, the Judean and Negev deserts, and Jordan.
From the author
Having watched the Jordanian Dead Sea Rift for a long time from the Israel side, I longed for the day I could get to roam through its landscapes. When the peace arrived in 1994 the first thing I did was to have coffee in downtown Amman.
From that moment onwards I was captured by the beauty of this land and its people. I trekked and guided through the Rift for six years, and the more I came to know it, the keener my desire to thoroughly explore it grew. After finishing my Geology and Environmental studies I set off for one year of day-to-day exploration.
The cliff of Umm Ala over looking the valley of el Qa'.
At the top of the cliff is an Edomite stronghold (Itai Haviv)
The excitement of hiking without knowing what lies behind the next bend in the canyon was addictive. Though the maps promised rugged topography, I could never have imagined so much natural beauty. Every day brought new canyons, summits, springs and waterfalls. There were fascinating encounters with Bedouin and enchanting nights of hospitality and storytelling.
I have seen the sparkle in the eyes of those who trek through the region for the first time. I hope that the same is going to happen to you.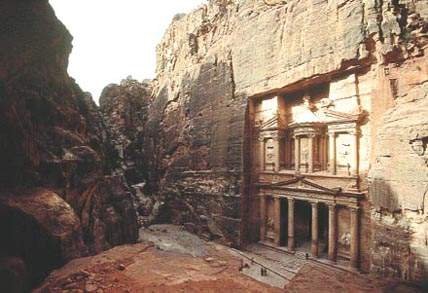 Petra's Treasury (Onn crouvi)


About the book
The book describes 68 routes ranging from one to six days. Among the routes are easy walks for dayhikers as well as challenging treks. 12 canyoning routes demand abseiling skills. The book is 264 pages long including 35 detailed trekking maps, 3 true-color satellite images and 24 color pages. The vast majority of the routes were never described anywhere before!
Abseiling the upper waterfall of Wadi Karak (Noya Shiloni)
Background information include geography, history, flora, fauna, people and culture, nature conservation and language as well as practical information about when to trek, how to get there, what to take etc.
For further information please contact us at: info@desertbreeze-press.com
Getting the guidebook:
The book is available in the following bookstores throughout the world:

Austria (will be updated soon)
Germany (will be updated soon)
France
L'ASTROLABE
46 rue de Provence
75009 Paris
Tel: 42854295
Fax: 47669430
Israel
Lamtayel: Jerusalem, Tel-Aviv, Hifa, Shfaeim, Rhishon
Masaot: Petah Tikva
SPNI: Jerusalem, Tel-Aviv
Orcha: Jerusalem
Distributed by:
Geographic tours LTD
12 Tveria Street
Tel Aviv
Tel: 03 5284113
E-mail: books@geotours.com
Italy (will be updated soon)
Jordan (will be updated soon)
Scandinavia (will be updated soon)
Switzerland
Travel Book Shop
Rindermarkt 20
Ch - 8001
Zurich
Tel: 01 2523883
Fax: 01 2523832
E-mail: info@travelbookshop.ch
UK and the rest of Europe
Cordee LTD
3a De Montfort Street,
Leicester LE1 7HD
Grear Britain
Tel: 0116 2543579
Fax: 0116 2471176
Website: www.cordee.co.uk
E-mail: sales@cordee.co.uk
USA (will be updated soon)
Desert vistas from the summit of Jabel Rum (Itai Haviv)
Introduction
About the Region
Geography
Geology
Hydrology
History
Exploration
Flora
Fauna
Nature conservation
People and culture
Language



Practical Information
When to go
Getting to Jordan
Equipment
Abseiling and special equipment
Time
Money
Books
Maps
Holidays
Getting around
Women travellers
Accommodation and camping
Food and drinks
Trekking information
Water
Trek maps
Guides and organized treks
General code of behavior
Safety & First Aid
Dehydration
Heat stroke
Flash floods
Snakebite
Scorpions
General
Rescue
The northern tip of the Dead Sea and Madaba area
From Wadi Mukheiris to Wadi Zarqa Ma'in
1. Wadi Mukheiris
2. Wadi Manshala
3. Wadi Himara
4. Across northern Moab
From Wadi Mukheiris
to Wadi Manshala
5. Wadi Zarqa Ma'in,
lower gorge
6. Wadi Zarqa Ma'in,
Upper canyon


The Mujib Nature Reserve and Dhiban area
From Wadi Zarqa Ma'in to Wadi Shuqeiq
7. Wadi Abu Khusheiba
8. Wadi 'Attun
9. Wadi Daba '
10. Wadi Mujib's lower gorge
11. Wadi Mujib's lower gorge,
a short route
12. Wadi el Hidan
Karak area and Mazra'a Bay
From Wadi Shuqeiq to Wadi Hasa
13. Wadi Ibn Hammad
14. Wadi Karak
15. Wadi Weida'a
16. Wadi 'Assal
17. From Wadi Numeira
to Wadi Marsad
18. Wadi Hudeira
19-21. Wadi Hasa
19. Wadi Hasa's upper canyon
to Wadi 'Afra
20. Wadi Hasa, lower canyon
21. Wadi Hasa, the full lengh
Tafila area and Dana Nature Reserve
From Wadi Hasa to Wadi Ghuweir
22. Wadi Jifneh
23. Jabel Muleih and Wadi Jifneh
24. Wadi 'Aima and Wadi Feifa
25. Wadi Umruq
26. Wadi Khanzira
27. Wadi Khanzira, a short route
28. Wadi 'Aima to Wadi Khanzira
29. Sela' - The Rock of Edom
30-35. Dana Nature Reserve
30. The Cave Trail
31. The Campsite Trail
32. Jabel Rummana Trail
33. Dana Village
to Rummana Campsite
34. Dana Village
to Feinan Campsite
35. Wadi Hamra
to Hammam Dathneh
36. Wadi Ghuweir
37. From Wadi Hamra
to Wadi Ghuweir
38. Feinan's copper works
Shawbak and Petra areas
From Wadi Ghuweir to Wadi Musa
39. Umm el 'Ammad Cave
40. Wadi Feid
41. The Black Mountains
42. Canyons
and ancient caravan routes
43. Ba'ja Edomite stronghold
44. Little Petra
and its surroundings
45. From Little Petra to Petra
46. Wadi Musa
47. Jabel Umm el Biyara
48. Wadi Mudhlim
49. Jabel Harun
The mountains of Rajef and Humeima
From Wadi Musa to Wadi Rahma
50. Jabel el Quseir
Edomite stronghold
51. From Petra to Taybeh
52. The Rajef Inselbergs
53. Around Rajef - Jabel Barza,
Wadi Hurma, Wadi Abu
el 'Uruq
54. Around Rajef - Jabel Juleif,
Wadi Tajra, Wadi Abu
el 'Uruq
55. The White Narrows
and the Dark Gorge
56. Ein-es Sadeh
57. Across southern Edom
from Dilagha to Humeima
58. The sand dunes of Wadi Rakiya
59-60. Humeima
59. Jabel Humeima
60. Humeima
from the Horn of the Gazelle
61. From Petra to Humeima
62. Wadi Khubat
63. Wadi Rahma
64. Wadi Khubat to Wadi Rahma
65. Jabel Sor

The Mountains of 'Aqaba
From Wadi Rahma to the Gulf of 'Aqaba
66. Jabel Baqer
Wadi Rum
67. Across Jabel Umm 'Ishrin
68. To the summit of Jabel Rum
Glossary
Index
Map Legend